Interview with David Yates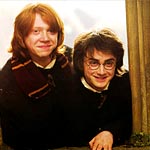 Jan 19, 2005
Uncategorized
David Yates, who was just formally announced as the director for the film version of Harry Potter and the Order of the Phoenix, recently gave an interview to Film London where he spoke about being involved with the fifth Potter movie.
Were you surprised to be asked to direct the latest Harry Potter installment?
"I was really thrilled, and excited by the prospect. It's the kind of scale of film I've wanted to make since I was 14."

How do you feel about this project?
"I'm really looking forward to it, and am working my way through all of the books, and starting to get a bit addicted to the world which is fantastic and wonderfully realised. "

The whole of the UK was gripped with Harry Potter fever when the books were first released, did you rush to the bookshops with the masses?
"I hadn't read a Potter book until earlier this year, because I was so busy making stuff or reading other scripts, so it has been a real pleasure to catch up with everyone else over the past weeks and months".
Thanks very much to The Snitch!