Prisoner of Azkaban and the Moviefone Awards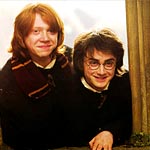 Jan 22, 2005
Uncategorized
Harry Potter and the Prisoner of Azkaban received four nominations at this year's Moviefone Moviegoer Awards. The film was nominated for "Best Picture", and "Best Family Film". Emma Watson, who plays Hermione Granger, was nominated as "Best Supporting Actress". The scene in the film where Harry flys Buckbeak over the grounds of Hogwarts and the lake was nominated as "Greatest Moment".
If you would like, you can click here and vote for Azkaban in these categories.
Thanks to the many who emailed!