J.K. Rowling Donates to Children's Book Center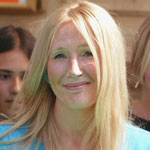 Jan 24, 2005
Uncategorized
Harry Potter author J.K. Rowling has donated £20,000 ($37,500 USD) to help fund a book center which aims to promote children's literature in Edinburgh, Scotland. The Scottish Centre for the Children's Book, which hopes to be open later this year, will promote "Scots children's books to youngsters and their parents." This article from the Edinburgh Evening News says:
"Edinburgh-based Ms Rowling, whose sixth book in the Harry Potter series, Harry Potter and the Half-Blood Prince, is set to be released in July, has spoken of her passion for encouraging children's love of literature.
She has been keen to support events where she gets the chance to interact with her young readers.

Catherine Lockerbie, director of the Edinburgh Book Festival, said she was not surprised the author had chosen to back the centre. She said: "She has always been passionate about engaging young minds. That is what the Harry Potter series is about. She did not deliberately set out to sell books."
Thanks to Mayme and JKRFans.com!