Baltimore Sun: PoA and "The Year of the Screenwriter"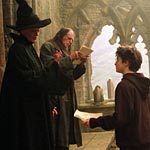 Jan 03, 2005
Uncategorized
The Baltimore Sun recently published their review of what they considered to be the best films of 2004, focusing on the screenwriters of these films. In particular, attention was given to Harry Potter and the Prisoner of Azkaban. The film was chosen as one of their top ten, calling it "A studio-made special- effects fantasy with the depth and multiple hues of a location masterpiece like The Black Stallion. And then there's the crystalline script."
While the review praised all the screenwriters of their top films picks, the longest focus was on Azkaban's screenwriter, Steve Kloves.
"Chinatown it ain't," commented the modest Kloves about his script for Harry Potter and the Prisoner of Azkaban. "But here it is," he said, mailing it off six months after I first requested it. I was curious to read it, partly because the director, Alfonso Cuaron, had won a huge share of the credit for the leap the Potter series took with its third movie.

As soon as I got it, I turned to the scene that had affected me more than any other: a revealing talk between Harry (Daniel Radcliffe) and his rather worn-looking professor of defenses against the dark arts, R.J. Lupin (David Thewliss). Everything I had experienced in the theater that added depth and poignancy to the story was there in dialogue and description on the page.

"The first time I saw you, Harry, I recognized you immediately," confesses Lupin. "Not by your scar. By your eyes. They're your mother Lily's; yes, I knew her. She was there for me at a time when no one else was. She was not only a singularly gifted witch but an uncommonly kind woman. She had a way of seeing the beauty in whoever she met, even – and perhaps most especially – when that person couldn't see it in themselves."

With a writer like Kloves, brilliance doesn't always lie in extraordinary language (though his Wonder Boys script abounded in it). For Harry Potter, he placed plain words in the right order to open up new worlds or closed chapters of history."
Please note, registration is required, but free, to read the entire article.