Warner Brothers and Harry Potter: Good for Business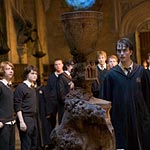 Jan 05, 2005
Uncategorized
The Hollywood Reporter has a new report about the financial success that Warner Brothers had in 2004, due in part to the Harry Potter films. According to the article, Harry Potter and the Prisoner of Azkaban was the studio's top domestic money maker, making more than 294 million dollars. The article goes on to say that Warner Brothers is looking forward to another big box office year in 2005 with the release of film such as Batman Begins, Charlie and the Chocolate Factory , and the 4th Potter film, Harry Potter and the Goblet of Fire.
In a related piece by columnist Martin Grove in The Hollywood Reporter, there was also mention of the success that Warner Brothers hopes to have with the upcoming Goblet of Fire film.
For the franchise's fourth episode, "Goblet of Fire," Warner is going back to the series' fall release roots. A Nov. 18 opening will position the "Fire" perfectly in the increasingly lucrative family film holiday season. With somewhat less competition to deal with than in the hot-and-heavy summer and with family fare being precisely what plays best in the pre-Thanksgiving through Christmas weeks, "Fire" should generate some true boxoffice heat.