Fan Warning: Online HBP E-Book Possible Scam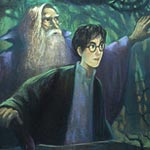 Jan 08, 2005
Uncategorized
Update, 1/10: The site is closed.
We've had a number of reports in the past day or so about a website that is allegedly selling electronic book versions of the five released Harry Potter books, as well as an electronic book of Book Six, which we all know hasn't been released yet.
We're not linking to the site here, as it is against the aim of this post to bring the site any further visitors or customers.
Some TLC staffers attempted to purchase the books to see just how much of a scam it is (in other words, are they actually making illegal e-books available, are they using a fan fiction as HBP, or are they simply fishing for credit card numbers?) and we learned that they consistently state that they can't charge the card – and that's after they've obtained the credit card number.
Please do not try to buy anything online claiming to be book six. It's either not really book six or a case of blatant copyright infringement to download it. We have contacted people who are in a position to take action against the site in question, and fully expect the site to go offline in the next few days, but we are getting too many emails from angry and concerned fans to ignore this – or allow it to go on – until Monday. Since last night, the site raised its "price" for "book six" from $7.95 to $11.95; clearly there is a real problem here. Update: The price has now changed to $9.95; whether this is just fickleness or an attempt to avoid being identified with these reports, we don't know. Stay away, and shame on them.
Please spread the word not to use this site, and remember to only give your credit card number to trusted companies – and if you're under 18, it's best not to use a credit card without your parents' permission at all.