New GoF TV Commercial?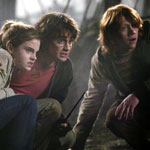 Oct 02, 2005
Uncategorized
We've been getting reports tonight that a brand new Goblet of Fire television commercial is running here in the states. One viewer said she saw it on ABC during America's Funniest Videos. It apparently contains a glimpse of the great Malfoy into a bouncing Ferret scene, and a clip with Barty Crouch Sr. If anyone can tape it, or send in more details, please do!
Thanks Rose! and to all who let us know!