CastWatch: Thompson, Rickman, Fiennes News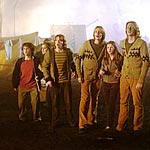 Oct 03, 2005
Uncategorized
Here are a few pieces of news today about some of the actors seen in the Harry Potter films.
*Actress Emma Thompson, who plays Professor Trelawney, is back in another role as a witch (and looking hilarious) as seen in this cute trailer for her new film Nanny McPhee. This film also stars the wonderful Colin Firth, and Imelda Staunton who is rumored to be cast as Professor Umbridge in Phoenix. Check it out!
*Ralph Fiennes (Lord Voldemort) is set to make his directorial debut, when he directs his first film "Snow Country", to be shot on location in Canada. According to reports this film is "about a 17-year-old Inuit girl in a convent in northern Canada." Ralph will be also be seen on stage on Broadway here next year in the play "Faith Healer." Over the weekend, his newest film "Wallace & Gromit: The Curse of the Were-Rabbit" premiered in London. You can see photos of Ralph at the premiere here.
*Alan Rickman will be seen next in the motion picture "Snow Cake" with Sigourney Weaver. BritFilms has posted a synopsis of the film, along with a small photo of Alan from the movie. MuggleNet is also reporting today that Alan is leading Hello Magazine's current "Most Attractive Man" vote….