Last Batch of GoF Pics from German Calendar; eBay poster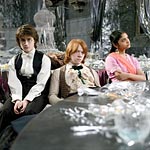 Oct 03, 2005
Uncategorized
And now, all good things come to an end; the last batch of pics from the German pocket GoF calendar that Anne has been sending us all week. Thank you, Anne, it's been a pleasure!
Karkaroff
Durmstrangs
The Great Hall
A fabulous Rita Skeeter shot
Cedric in the maze
Barty Crouch in the tent
McGonagall during ferret scene
Sad Ron
In addition, this poster has turned up on eBay, and looks quite authentic.