PotterCast #7 Now Available: Live Podcast from Salem This Weekend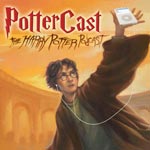 Oct 04, 2005
Uncategorized
PotterCast #7 is now available!
In this show:
-Part three of our three-part interview with Matt Lewis – we'll talk about book five and his preparations for filming the movie, his discussions with David Yates, how much of Neville's family history we can expect to see in the films, and more. And he even gives us a little impression of Neville in the Dept. of Mysteries.
-An announcement: The next show will be LIVE from Salem, Mass., where The Witching Hour convention is taking place this weekend. We'll be at Finz Seafood Restaurant at 76 Wharf Street, Salem, from 1:30 p.m. to 3:00 p.m. this Saturday, so if you're there, come by and watch Melissa mess up the audio! A call for audio help is on the table, if you're going! John seems to think this call includes kisses.
-More news and updates on the live NYC podcast with MuggleNet that will take place right after the "Goblet of Fire" premiere in New York! (RSVP doesn't equal seat!)
-The Banned Books T-Shirt design contest is not over!
-Our moderators reveal a big project they've been working on for a long time – finally a place for your essays and opinions! More in the modcast.
-A reader leaves a voicemail doing what John Noe would not!
If you are new to all this podcasting stuff, it's really easy: want download and install it iTunes, then click here to listen. (There's a tutorial right here.) Our other links and direct download are on our episodes page, along with show notes, relevant links and clips. ENJOY!