More Magazine Articles with Potter Actors Interviews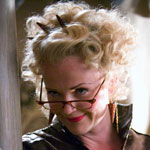 Oct 07, 2005
Uncategorized
The new issue of Xpose magazine has a lengthy feature on the upcoming Harry Potter and the Goblet of Fire film. Snitch Seeker has posted all sixteen pages of this feature. Although there isn't any new photos included in the piece, there are several new interviews with Rupert Grint (Ron Weasley), Emma Watson (Hermione Granger), Mark Williams (Arthur Weasley), James & Oliver Phelps (Gred & Forge Weasley) , Bonnie Wright (Ginny Weasley), Potter film producer David Heyman, and Jim Mitchell & John Richardson (the special effects supervisors). While most of the interviews talks Goblet, there is also mention of working on Order of the Phoenix, which goes into production early next year. Click here to see the scans.
Earlier, MuggleNet posted scans of an interview and feature on Emma Watson, who is gracing the cover of the November issue of Teen Vogue magazine. You can see the scans here.
Film Review is also set to feature Goblet of Fire in their new issue as well, featuring interviews with Rupert Grint and Emma Watson. The cover features a photo of Daniel Radcliffe as Harry Potter and the words "Black Magic" on it. The title of the piece is called "The Dark Side of Harry Potter." Film producer David Heyman is quoted as saying "The heart of the story is about a boy turning 14, from the first blushes of adolescence to becoming a fully-fledged teenager. With that comes the realisation that adults don't have all the answers." Anyone with scans, please send them in!
Thanks much to SnitchSeeker and MuggleNet and to everyone who emailed!