Film Review Article on Goblet of Fire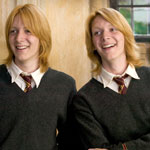 Oct 08, 2005
Uncategorized
Snitch Seeker has now posted scans from the Film Review magazine feature on Goblet of Fire that we told you about yesterday. While much of the material we have seen before, there are some new quotes from the cast members interviewed. Those interviewed include Rupert Grint (Ron Weasley), Emma Watson (Hermione Granger), Stanislav Ianevski (Viktor Krum), Katie Leung (Cho Chang), and Robert Pattinson (Cedric Diggory), as well as film producer David Heyman. There is also this interesting bit from special effects supervisor Nick Dudman.
"We've produced the make-up for Mad-Eye Moody-which is quite extreme-the make-up and the look for Voldemort, and we've produced several gags for the scaling of Hagrid and Maxime's scene. Mad-Eye Moody's make-up was very difficult because it's such a ridiculous looking image, but you have to make it believable. Originally they were talking about CG-ing the ffect and we really fought against that because we wanted it to be something Brendan Gleeson could actually work with, although the eye itself he's not operating."
Thanks very much to Snitch Seeker!
Update: If you are having trouble seeing the scans, Claire from Rupert Online.net let us know she has posted scans as well, here. Thanks Claire!