WB Special on Harry Potter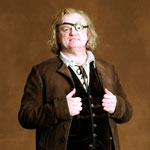 Oct 08, 2005
Uncategorized
Reader Jenny wrote us to say that The WB is promoting a special television program on Harry Potter called "Harry Potter and the Secrets Saturday" which is set to air on October 29th. This special is to be hosted by Potter film actors James and Oliver Phelps (Fred & George Weasley) and actress Bonnie Wright (Ginny Weasley). Jenny writes that this show includes a "look at behind the scenes of the first 3 movies, and how fun stuff was done, like creating Buckbeak, and turning Peter into Scabbers." When we get more information about this program, such as the air time, we will update as soon as we can.
Also, on the Kids' WB! site, you can see a photo of the winner of the "I wanna be a Wizard Contest". Her name is Anna Maria from Des Moines, Iowa, and she was the winner of a lucky walk on part in the upcoming Goblet movie. Congratulations Anna!
Thanks Jenny!
Update: Reader John wrote in to say the correct name of the special is called "Spellbinding Secrets Saturday". Thanks John!