New Interview with Katie Leung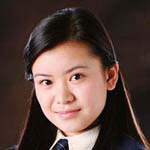 Nov 02, 2005
Uncategorized
CBBC Newsround has posted a new interview with actress Katie Leung, who portrays Cho Chang in the upcoming Goblet of Fire film. While most of the information is not new, she does talk again about being cast in the film, and this about learning to dive.
Were there any difficult bits? You had to learn some new skills for the film.

We did a lot of diving scenes and I had a lot of lessons but it was a great experience. A lot of co-ordination was involved – using the wind and wave and you had to swim to a certain angle.
There is also this second interview where she talks about what she was like at school, and when she was 12.
Thanks Wendy!