Entertainment Weekly Feature on GoF Now Online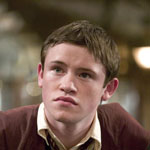 Nov 04, 2005
Uncategorized
We told you a few days ago about the new issue of Entertainment Weekly that will feature Harry Potter and the Goblet of Fire, along with that great new cover photo of Daniel Radcliffe. Excerpts from many of the pieces are now online. There is this new interview with actor Daniel Radcliffe, discussing things such as his role as Harry, music, and even girls. Quotage:
Does playing Harry ever get boring?
Definitely not. I might as well be playing a different person each film, because he changes so much. Like here, he's going through all that puberty crap.

"Puberty crap"?
You know: the first crush. Of course, when it's your first crush, it's not just a crush — you looove her.

Can you relate?
Every guy can relate, at least once. In my case, more than once. I'm crap with girls. Guys my age, they think they're suave, but they're rubbish and they know it.
There is also an interview with film producer David Heyman who takes a look back at the films over the years.
Another article and photo gallery combination, which includes a new photo of Daniel Radcliffe, Emma Watson and Rupert Grint, previews the new Goblet of Fire film.
"This is the hinge,"' says franchise scribe Steve Kloves of Goblet's significance. "This one closes the door on everything that came before, and sets the stage for a new kind of Potter experience altogether…."It's fiendishly intricate. It resists adaptation," says Kloves. " Far and away the hardest one yet to crack."
This issue of Entertainment Weekly hits newsstands on Monday. Thanks to EW!