Live Streaming Goblet of Fire London Premiere Footage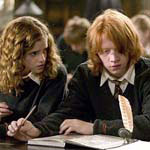 Nov 06, 2005
Uncategorized
Everyone, in a few minutes, Warners Brothers will be starting the live streaming footage from the London Goblet of Fire Premiere AT THIS LINK. Enjoy Enjoy! TLC will be updating throughout the day with more GoF Premiere coverage, so stay tuned!
UPDATE No. 2: TRY THIS LINK TO SEE FEED- CLICK HERE , then click on upper right side. Enjoy! Please keep hitting refresh on either of the links.
Update: We know that there is a problem with the link. Please keep trying. Daniel Radcliffe, Rupert Grint, Emma Watson, and many of the cast are now there. Plus we just saw our own Melissa – she's wearing a green shawl and walking with Devon Murray. Daniel is wearing a smart dark green velvet jacket, as is Rupert. Pics coming soon!