News Stories, Photos from London GoF Premiere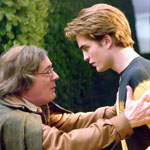 Nov 06, 2005
Uncategorized
The AP just posted the first of will no doubt be many news stories about todays premiere of Harry Potter and the Goblet of Fire in London, England. The article talks to some of the fans who made long journeys to see the premiere, and there are quotes from Rupert Grint and Daniel Radcliffe who says:
It's just a bizarre experience," said Daniel Radcliffe, the 16-year-old actor who has played Harry since he was 11 said of the crowds after arriving for the showing.

"It's incredibly strange and incredibly wonderful," he told BBC News 24 television. "They (the fans) have been waiting for hours and they don't get to see the film. They're the most amazing people. They're the hard-core of fans."
You can see a photo of Daniel at the link looking handsome in his dark green jacket and waistcoat. There are additional photosof the cast, and even some of guests like Madonna, at this link as well.
Update: The Scotsman reports 7,000 fans attended the premiere today in Leicester Square.
Update #2: Empire Online has now posted their story with new quotes from the cast members in attendence, including Rupert Grint who says of the premiere:
"It's scary, yeah. These premieres are quite hard to get your head round, it's a bit strange to be honest, but good fun as well." Growing up during the filming had helped him playing Ron: "Ron's more of a moody teenager and he gets jealous of Harry because he's sort of this hero, but he gets over that. It makes it a bit easier I guess because we know what they're going through. Especially if they find it hard, like Ron, he has some bad experiences with girls!"
Update: Photos from the premiere
*WireImage: Inside Arrivals
*Wire Image: Outside Arrivals
* London Features
* Jenna from Dan Radcliffe.com has a photo album up, here.
*Char from JasonIsaacsPhotoalbumonline.com let us know about her
screencaps here.