Additional Order of the Phoenix Film News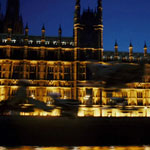 Nov 07, 2005
Uncategorized
Yesterday, we told you about the CBBC Newsround story on the update on the progress to cast the part of Luna Lovegood for the film Harry Potter and the Order of the Phoenix. Today there is a bit more from Newsround, with some more information about Grawp and a good bit of news about an item found at Grimmauld Place. From Producer David Heyman:
"Grawp will be a fully digital character, giving him humanity is really important. There's some wonderful stuff with Grawp in the script. I'm really excited about that."

JK Rowling is also being a huge help to the production.

David explained: "In the fifth film we have the Black Family Tapestry. In the book there's a bit of information. But in the film we need to fill that out, and she'll provide us with that information."
Director Mike Newell also spoke about some things we can expect on the Harry Potter and the Goblet of Fire DVD, which will be released next year, noting "Jarvis Cocker and Radiohead play songs which are short in the film, but are in full on the DVD…I've done a director's commentary, of course." Producer David Heyman also spoke of the Goblet DVD saying "There will be some deleted scenes, how we did certain things, how the effects were done and behind the scenes interviews – probably greater access that we've ever had before."
Harry Potter and the Goblet of Fire is released on November 18th. Harry Potter and the Order of the Phoenix begins filming in early 2006 with a release date tenatively set for 2007.