Wrap-Around of GoF Premiere Coverage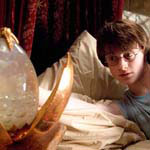 Nov 07, 2005
Uncategorized
Lots of publications, shows, and websites posted coverage overnight of the GoF premiere yesterday. Thanks to everyone who sent us links!
ThisIsLondon has a review, photos from the red carpet, a smattering of quotes and some fan commentary. They also featured the views of kids and parents who'd seen the film:
For many children attending the London premiere the fear was part of the fun. Luke Nikolic, four, said: "It's a scary film but I really enjoyed it. My favourite part was when he had to fight the dragon. I'd like to see it again and maybe I wouldn't be so scared next time."

His sister Isabella, 10, said: "So far the Goblet Of Fire is the best film. He has to fight a dreadful fire-breathing dragon, then he has to swim in the Black Lake under water for an hour." Jack Shephard, 13, said: "With a brilliant storyline and mind-blowing special effects The Goblet of Fire is the best Harry Potter movie so far. I was on the edge of my seat."

Ray and Yolanda Queally's seven-year-old daughter Elena was frightened and covered her eyes at the end, but son Liam, 11, complained it was not long enough. Mr Queally felt the film rating was fair, but would not let children view it on their own.

Parents Gerhard and Karin Florin, from Richmond, agreed. Mrs Florin said: "It's a good film for kids, just a bit darker."
Channel Four reported that fans who waited for hours to see the stars were "spellbound."
Sky News reported on who was there, and also put together a collection of photos .
The Mirror thought the film was epic, and noted that "the best part of the film is its comic portrayal of teenage angst, particularly Harry's bumbling attempts at romancing the bewitching Cho Chang." They also said that those unfamiliar with the book may have a hard time following the plot twists.
Additional Photos:
Rex Features has many photos us now, including some photos of the private after-party. Emma Watson is seen wearing a different dress than the one she wore at the premiere. You can see those photos, here. Film Magic also has more of the party, here.