PotterCast Extra (Episode 1: FilkCast) Now Available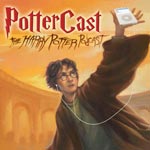 Nov 09, 2005
Uncategorized
As promised (weeks ago), our first full episode featuring extra PotterCast content is now available; these will be non-regularly served smaller episodes that fit what we can't fit in a regular PotterCast but want to share with you nonetheless.
A few podcasts ago we made a blithe mention that you should write songs about Potter or PotterCast and sing them on our voicemail; well, you all responded with such enthusiasm we had enough for our next week's show as well as 25 minutes of songs for this extra cast. It's not a subscriber special, because there's so much content; it's available to everyone.
This isn't every submission, but it's what was best, most recognizable, and just made us laugh the hardest. We hope you have fun listening! Sue, John and I also do some commentary before and after (for the record, I'm speaking very low because my London hosts were sleeping when we recorded this!) – discussion topics included:
-GuruofSloth's FOUR songs (he's Stubby Boardman, clearly)
-The Potions Master Formerly Known as Snape
-The LIVE NYC SHOW this weekend! (RSVP does not equal a saved seat!)
-Premiere outfits!
-Being sick of burrito jokes
-Being made sick by a burrito joke
-A discussion about a certain sleepover that nearly fillets Sue
-A threatening voicemail from an Emerson fangirl…
Running time: 38:18
If you are new to all this podcasting stuff, it's really easy: want download and install iTunes, then click here to listen. (There's a tutorial right here.) Our other links will soon be on our episodes page, along with show notes, relevant links and clips. Direct download it here! ENJOY!