The Making of GoF: Dragons, Voldemort and More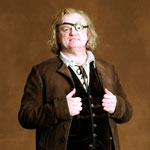 Dec 01, 2005
Uncategorized
There are a number of features online now about the work done regarding the technical aspect of making the Harry Potter and the Goblet of Firefilm. Several of the production companies used to make the special effects used in the fourth Potter movie have detailed the astonishing work and effort that went into creating these impressive effects.
First, the Christian Science Monitor has this article about Industrial Light & Magic and the making of the Dragons for the film.
Finally, after three to five months of preparation, the dragon had texture and color and was moving well. It was ready to start "shot production." This is when the dragon is manipulated into film scenes, "acting" alongside the real actors – in this case Harry, who was trying to accomplish a tournament task."The shot production went on for another nine months," Alexander says. The whole process involved at least 50 people for more than a year."
Next, the Moving Picture Company has a very cool feature on their website about the impressive 216 shots they created for Goblet , including the Maze, the graveyard scene, and the 21 foot snake slythering through the opening sequence of the film. They also worked on some 80 shots of Voldemort alone, and you can also see a new still photo of the Dark Lord on their website. To access this scary photo via this link, click either flash or html, then on the bottom photo of Harry, then again. The Voldemort photo is located where is says "more images."
Framestore CFC also has an impressive feature online as well, about the work they did to create special effects for the film, especially for the Second Task, Rita's Quill,and the flying carriage. For the amazing underwater sequence, they delivered over six minutes of specialised footage, including all the digitally created Grindylows.
Finally, reader Ian let us know about his blog where he has some additional Goblet of Fire VXF mentions and interviews. Thanks Ian!