JKR and the Rags Before the Riches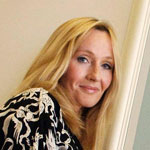 Dec 02, 2005
The Scotsman has a very good new article highlighting excerpts from a foreward that Harry Potter author J.K. Rowling has written for a new book, in which she describes her life in relative poverty before achieving her current fame and wealth. In describing parts of her days in Edinburgh as a single mother or what she calls "the 'rags' part of what might as well be called my Cinderella story", JKR reveals details of what a struggle her life was like living in Leith's South Lorne Street, and how far apart her life seemed from those in a better financial state.
"Violence, crime and addiction were part of everyday life in that part of Edinburgh," she writes. "Yet barely ten minutes away by bus was a different world, a world of cashmere and cream teas and the imposing facades of the institutions that make this city the fourth-largest financial centre in Europe.

"I felt in those days as though there was an abyss separating me from those carrying briefcases and Jenners bags – and, in truth, there was."
The proceeds from this book, One City, that includes the new forward by JKR, "will go to fighting social exclusion in Scotland's capital." One City will be launched Friday, December 9th at the Edinburgh Festival Theatre.