JKR to Write New Children's Book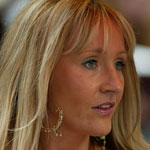 Dec 03, 2005
Uncategorized
The Scotsman is reporting today that author J.K. Rowling is planning on writing another book for children after she has concluded the Harry Potter series. Jo discusses her future writing plans in an upcoming radio interview to be broadcast on BBC Radio4. The newspaper article states that Jo " said that she has an idea for a new novel after she has written the seventh and final episode of the boy wizard's adventures." JKR says:
"There is another book that's sort of mouldering in a cupboard that I quite like, which is for slightly younger children. There are other things I'd like to write. But I'll need to find a good pseudonym and do it all secretly."
We will bring you more details when we can. The radio interview with Harry Potter author J.K. Rowling and Stephen Fry (who narrates the UK HP books) will be aired on Saurday, December 10th on BBC Radio4 via this link.