PotterCast #16 Now Available for Download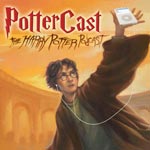 Dec 06, 2005
Uncategorized
PotterCast #16 is up and available for download! In this show:
Updates on the Holiday FilkCast Contest (don't fill out holiday cards while listening!)
-The mods talk Cauldron Shop for Christmas
-Mike Newell on what it's like trying to please all of us!
-Leaky's new, dash-free address, just for your convenience: LeakyNews.com!
-Shout-outs to the Elves and our trusty Stede
-John gives you his Skype name (and wants you to use it!)
-John also runs out of material
-Melissa, Sue and John announce…a live call-in show! It's coming this week, so keep checking Leaky and PotterCast.com to find out when you can call and chat with us.
If you are new to all this podcasting stuff, it's really easy: download and install iTunes, then click here to listen. (There's a tutorial right here.) Everything else is at PotterCast.com – you can also direct download it here, and discussion of the PotterCast is right here. ENJOY!
Update: The problems with the original file have been fixed – if you have a partial download, please clear the file and redownload and you should be okay. Thanks.