Emma Thompson Decorates Walking Stick for Charity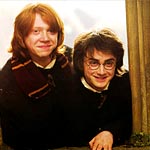 Dec 09, 2005
Uncategorized
Emma Thomson and other entertainment, music and sports celebrities have decorated walking sticks for an online charity auction. The money raised will aid the Disabled Living Foundation (DLF), a British charity providing information on disability equipment. Commenting on her creation, Ms. Thompson said:
"'Doing the stick took me hours and I still have sticky hands.'
She added: 'Being disabled should not mean being disqualified from having access to every aspect of life.
The DLF provides solutions to these challenges and I am very honoured to be included.'"
Read more about the auction here and check out the walking stick here.