Prisoner of Azkaban Soundtrack News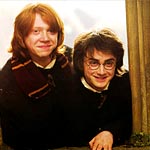 Feb 19, 2005
Uncategorized
In the final run up to next weekend's Oscar awards, there are several bits of news about the score for Harry Potter and the Prisoner of Azkaban, which was nominated for an Academy Award. The score by John Williams was included in an article earlier this week from Variety that had a quote from the composer about his music for the Azkaban film.
"It differed from the first two films in that this was a
darker, more mature subject. But like the others, it required something
like two hours plus of very active and difficult orchestral scoring, balletic
action, the light and dark side of magic, the atmosphere of the world and so on. The orchestral palette was very broad."
On a related note, the soundtrack for Harry Potter and the Prisoner of Azkaban will be featured on NPR on Weekend Edition Sunday, as part of their annual Oscar special, in a show called Listening to the Movies: Fantasy and Fright. The air times for this program vary, but this special will be posted shortly after broadcast on the website. The Academy Awards will be presented on February 27th, airing here in the US on ABC at 8pm(EST).