Hurley Rumors Resurface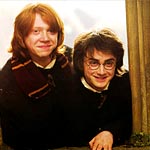 Feb 21, 2005
Uncategorized
The story has made the rounds and now has gone all the way to the Associated Press, that Elizabeth Hurley has been offered a role in Harry Potter and the Order of the Phoenix.
As far as we know, nothing has changed from last time, i.e: there is no truth here whatsoever. WB debunked this rumor unprompted, a scarcity, which should say something about how untrue it is.
Yet there's always that slim chance, of course. The AP is quoting a "source" that says that WB thinks she can "pull it off":
""They have always wanted someone beautiful and mystical to play
Bellatrix," said a source, "and they reckon Liz can pull it off."
Yet the story calls Bellatrix "Lestrang," so we're sure the reporter is not a huge fan and not up to date on the fan news. We'll let you know if we hear anything different. For now, Don't Believe It.