Scholastic.com: New HBP Poster, Updated Poll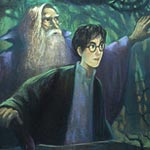 Feb 21, 2005
Uncategorized
Scholastic. com has updated their Harry Potter section with a new unique poster for the Half-Blood Prince book. It features a montage of all the five previous book covers by Mary GrandPre, and has a picture of Dobby in the section with the title and release date for book 6. You can click here to print this poster (requires Acrobat Reader pdf, which if you do not have you can download at the link). Please note: This is NOT the final cover look for the book 6, but just a poster for us to enjoy while we are waiting for the new book.
Also, The Shrieking Shack poll from before has been updated. According to the website, they received so many responses to the question as to who the Half- Blood Prince will be, they revised it. There are now twelve character choices for you to choose from. Enjoy!
Thanks to Harry Latino for the tip!