DVD Game "Scene It?" Photos and Information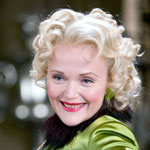 Feb 24, 2005
Uncategorized
Row M has updated their Toy Fair coverage with more Goblet of Fire related product information and photos. There is a detailed description up now about the DVD Potter film game called "Scene-It?"
As with other games in the Scene It? series, the Harry Potter version asks players to answer DVD-based trivia questions, name actors, and identify locations from movie stills as quickly as possible. Sample questions we encountered included "How many players are on a Quidditch team?" (seven) and set-identification for Honeydukes (from assorted photos of the vivid mint-and-white candy shop) and Diagon Alley (from pictures of owls, Quidditch supplies, and the Ollivander's storefront). Each correctly-answered question allows a player to advance around the game board. The questions are specific, but not so difficult that casual fans can't answer them, while the game's speed-oriented nature makes for exciting gameplay between the most studious movie-watchers.
Important is the fact that this game will include clips of the upcoming Goblet of Fire film due to be released in theatres in November. Says Row M "The game's September 1 release will give fans a glimpse of Goblet of Fire almost three months before the film's release which, while common in other movie properties, is a first for the Harry Potter franchise."
Click here for more photos including those of film props used in the display.
Thanks to Row M and to Andy from Harry Potter Fan Zone for the heads up!