Oscar Watch: Variety Talks Potter Chances for Winning Awards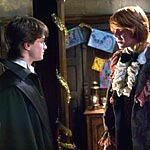 Feb 07, 2005
Uncategorized
As we told you previously, the Harry Potter and the Prisoner of Azkaban film was nominated for Academy Awards this year in two categories: Best Visual Effects, and Best Score. Variety now has two articles about each of these categories, and talks about the chances for Azkaban to win an Oscar award.
In the article on the three films nominated for Best Visual Effects, it has this to say of Harry Potter and the Prisoner of Azkaban:
"Potter" wowed the Academy of Motion Picture Arts & Sciences' effects branch with the complexity of its time-turner sequence and the realism of its CGI hippogriff. But the pic's crowning achievement are the digital dementors, made of fabric that floats in a way never before seen onscreen."
The article then lists why Azkaban will or will not win the Best Visual Effects award.
Harry Potter …
Roger Guyett, Tim Burke, John Richardson and Bill George
Oscar pedigree: Burke, "Gladiator""Gladiator" (win); George, "Innerspace" (win); Richardson, "Aliens" (win), "Cliffhanger" (nom), "Starship Troopers""Starship Troopers" (nom)
Why it'll win: The pic was good, and the effects get more impressive every time you look at them. Why it won't: It's a sequel and it's perceived as a kids' movie, so a lot of Oscar voters may not have bothered to see it in a theater.
In a second piece about the films nominated in the category of "Best Score for a Motion Picture", the article speaks about Azkaban film composer John Williams.
"Of the composers who remain in the race, John Williams received his 38th nom, for "Harry Potter and the Prisoner of Azkaban." While the score is varied and accomplished, Williams has a few factors working against him. "Prisoner of Azkaban" is the third "Potter" movie and voters might lump this score in with the others, lessening its impact. His dozens of noms coupled with his five wins may make Oscar want to give the award to one of his four competitors, none of whom has won."
Here is what the magazine lists then on the chances of the music from Azkaban winning the Academy Award for Best Film Score.
Harry Potter and the Prisoner of Azkaban
John Williams
Current kudos: Grammy (nom)
Oscar pedigree: "Schindler's List" (won), "E.T." (won), "Star Wars" (won), "Jaws" (won), "Fiddler on the Roof" (won); 37 additional previous noms
Why it'll win: John Williams is the last living film scoring heavyweight, with 38 noms and 5 wins.
Why it won't: He's already won five Oscars, and his competitors have never won.
The Academy Awards will be presented on Sunday, February 27th in Los Angeles, CA. It will air here in the US on ABC at 8pm (EST).