JKR and the Ballad of Nearly Headless Nick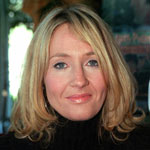 Mar 12, 2005
Uncategorized
"It was a mistake any wizard could make

Who was tired and caught on the hop

One piffling error, and then, to my terror,

I found myself facing the chop.
– excerpt from the Ballad of Nearly Headless Nick by JKRowling
Do you know the Ballad of Nearly Headless Nick? As stated on her website where you can read the entire poem, it was a ballad that author J.K. Rowling originally wrote detailing the story of Nearly Headless Nick for Harry Potter and the Chamber of Secrets. Her editor did not like the song and it was edited out of the final version book. Now J.K. Rowling is donating a handwritten draft of the ballad in order to help raise funds for a Scottish language dictionary. The Scotsman quotes the organizer of this auction, which is to be held March 24th in Edinburgh,Scotland, as saying of the poem "Making a guess about how much will be raised, that's the impossibility. The Harry Potter draft is priceless." J.K.Rowling is among several authors, including Ian Rankin and Alexander McCall Smith, who are donating handwritten works in order to benefit the Scottish Language Dictionaries.