New Goblet of Fire Set Report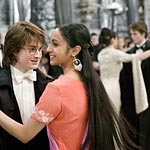 Mar 19, 2005
Uncategorized
The Philippine Daily Inquirer has published their set visit report to the filming of Harry Potter and the Goblet of Fire. The newspaper article contains brief set descriptions and has interviews with various cast members including Stanislav Ianevski who plays Viktor Krum
"On my first few days, we did the maze scenes. In the very first scene, I had to fight with Cedric. I remember my heart pumping because it was the first time that I was in front of the cameras."

Did he think he was a potential heartbreaker? "I'm more of a heart pleaser (laughs)."
While there are not many spoilers of the film itself, there are some interesting new quotes from various Potter actors including the trio. Daniel Radcliffe says "… that Harry is growing up and discovering girls." Film producer David Heyman and film director Mike Newell are also interviewed. Robert Pattinson, who plays Hufflepuff Quidditch Captain and tri-wizard competitor Cedric Diggory talks about his role in the fourth Potter film.
" Robert Pattinson, the fair one, plays Cedric Diggory. He said of his experience being one of the new kids on the block: "We did a workshop before the principal shooting started. It was kind of a bonding-type thing. I was star-struck when I first came."

Of Leung, who plays a girl that his Cedric and Radcliffe's Harry both have a crush on, Pattinson revealed: "I don't really have that many big scenes with Katie but I've been trying to get the chemistry right. I see her a lot outside of the set. I suppose that helps."
To read the entire set report, CLICK HERE. Enjoy!