Signed Goblet of Fire Sweepstakes to Benefit Children's Camp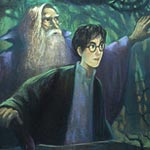 Mar 07, 2005
Uncategorized
In
August, the New York division of Kiwanis International, an international service
organization devoted to aiding children around the world, will raffle off a
one-of-a-kind American-edition Harry Potter and the Goblet of Fire
book signed by 27 members of Harry Potter and the Goblet of Fire,
including Dan Radcliffe, Emma Watson, Rupert Grint, Tom Felton, Jamie Waylett,
Devon Murray, Matt Lewis, Michael Gambon, Stan Ianevski, Clemence Poésy,
Katie Leung, Robert Pattinson and much more.
All proceeds from the drive wll benefit Kamp
Kiwanis, a haven for underprivileged and disabled children.To see a picture
of the some of the book's signatures, click
here.
This sweepstakes is open to any and all fans and tickets will be available for purchase online. You DO NOT have to live in NY to enter – anyone AROUND THE WORLD may get a ticket. Tickets will be $5 for one chance and $10 for three, and will go on sale on
April 1. The raffle will be held on August 19. Keep an eye on TLC and www.kampkiwanisny.org
for more information as it develops. You may also e-mail the foundation at [email protected].
This book was generously donated by Jamie Waylett (a.k.a Vincent Crabbe) and
his family, who got the book signed for this charity. Also, this proud TLC editor's dad is running the drive.

My father,
Salvatore Anelli, is vice president of the New York District Kiwanis Foundation,
which owns and operates Kamp Kiwanis.
The cast members who have signed the book are as follows:
Daniel Radcliffe (Harry Potter), Emma Watson (Hermione Granger), Rupert Grint
(Ronald Weasley), Tom Felton (Draco Malfoy), Jamie Waylett (Vincent Crabbe),
Devon Murray (Seamus Finnigan), Matt Lewis (Neville Longbottom), Bonnie Wright
(Ginny Weasley), Alfie Enoch (Dean Thomas), Clemence Poésy (Fleur Delacour),
Stan Ianevski (Viktor Krum), Robert Pattinson (Cedric Diggory), Katie Leung
(Cho Chang), Michael Gambon (Albus Dumbledore), Pedja Bjelac (Igor Karkaroff),
Warwick Davis (Filius Flitwick), James and Oliver Phelps (Fred and George Weasley),
Afshan Azad (Padma Patil), Angelica Mandy (Gabrielle Delacour), Charlotte Skeoch
(Hannah Abbott), Tiana Benjamin (Angelina Johnson), Henry LLoyd-Hughes (Roger
Davies), Tolga Saffer (Karkaroff's Aide), William Melling (Nigel, a first-year),
Louie Doyle (Ernie McMillan).