Half-Blood Prince Artwork Revealed on NBC; British Cover on Bloomsbury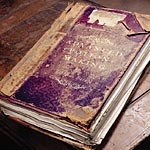 Mar 08, 2005
Uncategorized
The cover for Scholastic (American edition) versions of Harry Potter and the Half-Blood Prince was revealed today on the Today show; it will be shown again at 9 a.m. We expect good quality pictures soon but from what we saw, the art is green-toned and appears to show Harry and Dumbledore standing over a ghostly pensieve or basin of some sort… the lettering is purple and the "Half-Blood Prince" portion is thin and scrawly.
British art is up at Bloomsbury here!
Screencap here – thank you Liz and everyone else who sent it in!
The cover was designed by illustrator Mary GrandPre, who has also designed covers for the American editions of Harry Potter books one through five.