HP Editor on Today Show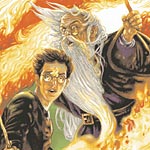 Mar 08, 2005
Uncategorized
Arthur Levine of Scholastic spoke on the Today Show just now, and released a few small tidibts about the book. Click below to read, and thanks to the reader who listed them!
Update: You can also see videos here, thanks to Page from DanRadcliffe.co.uk. Thanks Page!
There will be a new Minister for Magic (which we knew but hadn't had it pinned to this book).
We will find out a lot more about Voldemort.
He would not reveal if the HBP was Snape.
The book is intense, with light-hearted moments.