Royal Tidings: Cover Art for HBP in the News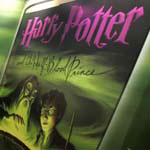 Mar 08, 2005
Uncategorized
With the release today of the book covers for Harry Potter and the Half-Blood Prince, some media sources have posted stories about this. MSNBC has this article about artist Mary GrandPre and her design work for the American version of Book 6.
"It's a challenge to take a character … and make sure he ages correctly and make sure he looks like he would look if he were to get a year older," she told The Associated Press. "I feel like I'm his mom, I comb his hair or I mess it up, I make sure he looks good before he goes out the door."
Click below for more!
In their official press release, Scholastic has an additional quote from Mary GrandPre about the colors and mood of the new book cover. Along with information about the special edition of Book 6, there is also a quote from Arthur Levine, who was present for the revealing of the book covers earlier this morning on NBC's The Today Show.
"In creating the Harry Potter artwork, I try to bring a certain amount of realism and believability to the characters and setting, but still add an element of wonder and the unknown," said Mary GrandPre. "For the cover of Harry Potter and the Half-Blood Prince, the mood of the art is truly eerie. I wanted the colors to be strong and I chose upward lighting and dramatic shadows to convey a kind of surreal place and time. It is an honor to illustrate for such an amazing writer as J.K. Rowling. She gives me, as an illustrator, so much to work with."

"With each new cover image, Mary beautifully captures both the essence of Harry's journey and the changes he is going through," said Arthur Levine, Vice President, Arthur A. Levine Books, Scholastic and editor of the Harry Potter books. "Individually, each jacket is like a concentrated visual taste of the book inside, and collectively they form a portrait gallery of a boy growing up very much in the public eye."
The Times newspaper has this article as well that shows the UK Bloomsbury covers for the new Potter book. Their description of the new covers state:
"Brandishing their wands, Harry – whose Quidditch playing appears to have contributed to a muscular adolescent physique – and his bearded headmaster stand in the centre of a ring of magical flame.

Afficiandos of over school-leaving age can preserve a facade of literary respectability by investing in the adult version, more soberly adorned with a photograph by Michael Wildsmith. It shows a battered copy of Advanced Potion Making, suggesting Harry is in line for more bruising lessons from hated potions master Snape. "
UPDATE: Macleans has another article about the release, with a quote from British illustrator Jason Cockcroft, who was the artist for the UK Children's edition of Harry Potter and the Half-Blood Prince.
"Each Harry Potter book has such a wealth of detail and dramatic images," Cockcroft said in a news release.

"It is not often that one has the chance to work with an author of such vision and it has been a hugely exciting challenge capturing the essence of J.K. Rowling's vision of the world of Harry Potter on the book jackets."