David Tennant Confirmed as Next Dr. Who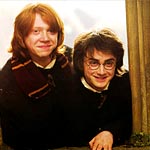 Apr 15, 2005
Uncategorized
Actor David Tennant, who plays the role of Barty Crouch Jr. in the upcoming Goblet of Fire film, has just been confirmed as the next actor to play the role of Doctor Who in the hit remake of the British TV series Doctor Who. The head of BBC drama is quoted as saying:
"David Tennant is a great actor who will build on the excellent work already done by Christopher in establishing Doctor Who for a new generation."

David Tennant says: "I am delighted, excited and honoured to be the tenth Doctor! I grew up loving Doctor Who and it has been a lifelong dream to get my very own TARDIS."
It was previously rumoured that that David Thewlis (Lupin) as well as David Tennant were up for the part.
Thanks to Stu and Julian!