The Floo Network Announces: The Cauldron Shop!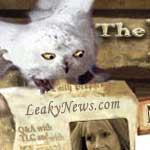 Apr 05, 2005
Uncategorized
Update: Many of you complained that the calendars were too expensive, so Ila, our WB Rep, had their prices slashed to half, right here – just an example of how your feedback works!
After almost 30 forum pages and more than 800 comments of fan speculation, the time has come to announce what we've been teasing all day! You all are once again, astoundingly smart, and were hot on our trail as soon as we started posting clues – which didn't mean we still couldn't have some fun with you! There are a "core of superbright fans," as JKR might say, that just stun us – we'll deal with you later. But now:
We are SO proud to present our newest Floo site, The Cauldron Shop, at TheCauldronShop.com, first and only international Harry Potter merchandise store, designed by fans, for fans, to be the only site you ever need to find any Potter merchandise there is.
This is an affiliate shop, designed to bring the wide, huge, scattered world of HP merchandise into one easy-to-use site. Though special affiliate relationships with Warner Bros., Scholastic, and more, we can bring you exclusive deals, first-look items, and a lot more.
We will feature items we, personally, as fans, think fans will like; we seek your feedback in our forum, where a professional WB Shop representative is taking requests for merchandise; we will continue to make the HP merchandise world as easy for you as possible.
And the best part: When you use these links to buy items, a percentage of your purchase helps fund The Floo Network, which includes The Leaky Cauldron, the Harry Potter Lexicon, Quick Quotes, the Hogwarts Gallery, and all their affiliated sites, including Leaky Lounge, the HBPFAQ, and soon to be more. This means that using this easy site to find HP products will allow these sites to keep running (and their ever-expanding bandwidth bill low), and you will get something in return for donating to these sites, as so many of you have done and ask to do again.
This shop was beautifully designed by John Noe, and programmed from the ground up by Nick Poulden, our amazing new Floo programmer, who has worked hard to make this easy for everyone. For instance, click on the flags on the left side of the page, and ALL the items will change so that the links presented reflect only those items that may be delivered to your country. As this shop grows, we are going to vastly expand these international areas to serve our huge, international readership. We will add more countries as we can.
You can also find books to read while waiting for HP – we have culled recommendations from our forum users, and listed over 250 books by author and genre, for you to surf through.
This is a growing, fluid site – the hundreds upon hundreds of items here are just the beginning. We feel sure you'll find everything you want, AS WELL as things you never knew existed – we all did.
Well, get going! We are thrilled to be able to bring you this service – and are SO happy and hopeful it will work that to cover our costs that we are taking down, effective tonight, the silly blinking ads on TLC's archive pages.
HUGE thanks go to Sue Upton, Belinda Hobbs and Nick Rhein for working so hard behind the scenes with us. Thanks guys!
So, that's it! Explore, enjoy, thank you in advance, and have fun!