Leaky Lovemark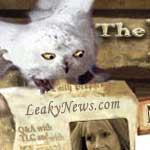 Apr 06, 2005
Uncategorized
We are so touched and honored by reader Janet, who is responsible for putting Leaky up for a Lovemark, a unique Web honor where users show their appreciation for their favorite things, places and people. Janet let us know she had nominated us, and today we're honored to be on Lovemark.com's home page, as one of the newest accepted nominees. Here is her citation:
I love The Leaky Cauldron because it's not just a website, it's a whole community of people banded together to share their love for the Harry Potter book series. Not only does it provide a wealth of information and the latest news, it also provides a home for Potterites to meet and discuss HP. As part of The Floo Network, Leaky has links to a Lexicon, a Photo Gallery, and quotes.

Last year TLC's fans sent them $12,000 in less than 24 hours for a new server that will help them stay in business a very long time. The Leaky Cauldron sponsors an annual charity drive for Book Aid International, a charity that supplies children around the world with books. Harry Potter fans, through The Leaky Cauldron, are responsible for purchasing more than 13,000 books -$30,000 – in the last two years.
That our readers feel this way about this site makes us even more dedicated to bringing you the best HP coverage we possibly can. At the risk of sounding extremely sappy (wait, no risk at all, here comes a bonafide sap attack): we love you guys too.