Coltrane Still Uncertain About Returning as Hagrid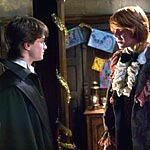 Apr 07, 2005
Uncategorized
Actor Robbie Coltrane has given an interview where he reiterates that he is uncertain if he will return for Phoenix in the role of Hagrid. Speaking with The Herald, he was asked about his future work in the Potter films.
"It's open to negotiations . . . I know the answer and it's 'I don't know'. That's that."

He declined to comment any further on the future of the role, instead praising the Goblet of Fire, although he admitted it was a very complicated plot.
Readers will remember that Mr. Coltrane made similar remarks about the uncertainty of his returning as Hagrid in an interview with the Sunday Herald that we told you about last August. Please Note: Nothing has been finalised yet about the script or casting for the Harry Potter and the Order of the Phoenix film. We will of course update you with more when we can.
Robbie Coltrane will be returning to the Scottish theatre this month appearing in the play "The Brother's Suit", which runs April 11th through the 16th.