Bloomsbury.com: Half-Blood Prince Screensavers, More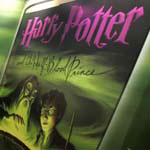 May 10, 2005
Uncategorized
Bloomsbury.com has added some very cool features on their website, including Harry Potter and the Half-Blood Prince screensavers and countdown clock for download in their "Fans" section of their Harry Potter website . There is a choice between the UK Children's book covers and the Adults book covers for the screensavers. Please note that these show all of the UK covers from the entire Potter series in a very nice fashion.
There are also some fun "Howlers" and "Owlers" that you can send to your friends. A very interesting Mythology section covers things mentioned in the Harry Potter books, such as the Phoenix, the Roman Myth of Romulus and Remus(as in Professor Remus Lupin), Werewolves, Narcissus(as in Narcissa Malfoy), Nagini, and much more. There is also list of books recommended by readers, and some cool links to other websites.
In the Book Section, there are bits about each of the Potter books, reviews,a glossary, a timeline of the publication of the books, and cool links to the international versions of the books.
The Author section has a biography of JKR, some links to interviews with her, and awards the Potter books have received. There are links and answers now in the FAQ section as well.
If you haven't been to the Bloomsbury site since their redesign, please check it out! Enjoy!