Brand New Deluxe Version of Half-Blood Prince Cover Art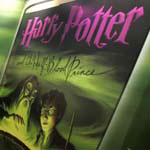 May 11, 2005
Uncategorized
Scholastic has just released a brand new photo of the cover art on the Deluxe Version of Harry Potter and the Half – Blood Prince. According to this press release:
"In this spectacular artwork for the Deluxe Edition, layers of mystery unfold in a forested glen, where we find Harry Potter and Dumbledore peering through dense branches," said David Saylor, Vice President, Creative Director, Scholastic. "Once again, Mary GrandPre's mysterious artwork beautifully features an eerie scene that tantalizes the reader with hints from the soon- to-be released, Harry Potter and the Half-Blood Prince.

The Deluxe Edition includes a 32-page insert featuring near scale reproductions of Mary GrandPre's interior art, as well as never-before-seen full-color frontispiece art on special paper. The custom designed slipcase is foil-stamped and inside is a full-cloth case book, blind-stamped on front and back cover, foil stamped on spine. The book includes full-color endpapers with jacket art from the trade edition and a wraparound jacket featuring exclusive art from Mary GrandPre. The deluxe edition will be a total of 704 pages and have a retail value of $60.00; the print run will be 100,000 copies.
CLICK HERE to see photo.
You can see a clear photo here.
Update: You can see a larger clear version on the Scholastic site HERE
Enjoy!
This book will be available on July 16th, and you can pre-order it through our shop at this link.
Thanks very much to Ty from HP4U.co.uk for the heads up and Tina for additional links!