JKRowling.com Updates: FAQ, News, HBP Publication Weekend Plans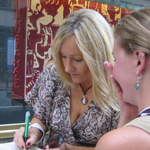 May 13, 2005
Uncategorized
(This is Melissa's attempt to act as a news reporter and get you guys all the straight info before resuming with the general insanity and exuberance that will classify today on the site. Just an FYI, because this is the most calm you will see me for quite a while.)
JKRowling.com's news section has been updated with her plans for the July 16th weekend: Friday night she will be reading from the book at the stroke of midnight at Edinburgh Castle, for 70 cub reporters, each of whom will get a signed copy of the book. The reporters, chosen from newspaper competitions in Britain, Ireland, South Africa, Australia, New Zealand and Canda, will read the book in a reading room at Edinburgh Castle, and then attend a press conference on Sunday to interview Jo Rowling about it.
On Saturday…on Saturday…OK…on Saturday Emerson of MuggleNet and I will go to Jo Rowling's home to interview her.
Yeah, honestly. It takes a while to sink in, but I'm not joking. A full post of details soon.
Also be sure to check out her FAQ section for info on Snape, the school song, and more I could tell you about if I had actually read it, but I haven't, because I can't see words properly right now!