Scotsman: HP Books Instigated Adults Reading Children's Fiction Trend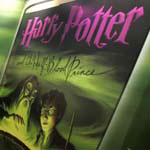 May 16, 2005
Uncategorized
The Scotsman reports that a survey by Waterstones shows that there are more adult HP book readers in Edinburgh than in any other British city, and that the HP books have instigated a trend of adults reading children's fiction, including books like The Curious Incident of the Dog in the Night-Time, by Mark Haddon, and Philip Pullman's His Dark Materials trilogy. The article also notes:
Pre-reservation demand for the adult edition of JK Rowling's next book, Harry Potter and the Half-Blood Prince, has been described as "unprecedented". Waterstone's is predicting that more than 250,000 people will buy the adult edition when it launches on 16 July.
The adult version and the child version only differ in terms of the covers of the books. You can see examples of the covers on the UK section of our own Cauldron Shop, where you can also purchase the books; if you do, a portion of your purchase goes to support the Floo Network of sites.
Editor's Note: Those in the "target" market when Philosopher's Stone first debuted in 1997 are now approaching – or even passing – 20 years old, which makes them adult readers of the Harry Potter books themselves.