ADMIN: Serverus and Storgé, Working Together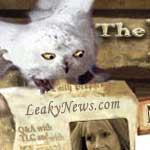 May 18, 2005
Uncategorized
As you can probably tell, our second server has been installed and is working: Storgé has officially joined forces with Serverus to bring Leaky to you faster and better than ever before.
To clarify: Storgé is the name of our second server, that runs our forums. Serverus runs everything else. Both are chugging along merrily. Our forums, which are now and have been for awhile at the bookmarkable address LeakyLounge.com, are open for business.
ALSO: We're proud to announce that our hosts, Idologic, Inc, who donate so much time, money and bandwidth to us (they were working on the server through to 5 a.m. this morning), are offering special hosting packages for Leaky readers who want to start up their own Web sites. We can say with confidence that the level of support and friendliness at Idologic is off the charts, and we know you'll be more than pleased if you decide to work with them, too. (Some of them also happen to be HUGE HP fans.)
This from DH of Idologic, who clarified a few things:
Hello everyone The offer is for non-HP sites as well as HP related sites. Basically the CEO (Jeff) reads the leaky a lot and just wanted to offer some discounted rates. They're all reseller accounts so you can setup multiple accounts that you could for instance share with your family.