Jim Dale to Host Barnes & Noble HBP Midnight Release Party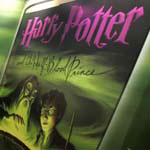 May 24, 2005
Uncategorized
Barnes & Noble booksellers sent out a press release today announcing that their stores are to hold parties for the midnight release of Harry Potter and the Half-Blood Prince. Some 660 stores will be staying open late and hosting parties throughout the US.
They also announced that Jim Dale, narrator of the Scholastic version of the Harry Potter audio books, will be host of the "Midnight Magic Party" for the HBP release at the Barnes & Noble in Union Square in NYC.
Be sure to check out PotterParties.com to find a Half-Blood Prince release party in an area near you. More parties are being added everyday, so be sure to check to see if your party has been listed, or to get some great ideas and tips for your own Potter party. Remember…only 52 more days to go!