Robert Pattinson: British Star of Tomorrow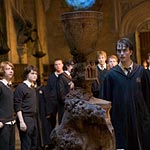 May 26, 2005
Uncategorized
There is an article in The Times about a list of young and upcoming British actors who Screen International thinks will be the stars of the future. Actor Robert Pattinson, who plays Cedric Diggory in the upcoming Harry Potter and the Goblet of Fire film, is one of the actors on this list. The article says:
ROBERT PATTINSON

With no big-screen experience, Robert Pattinson beat a host of other actors to the part of Hogwarts head boy and all-round good guy Cedric Diggory in Harry Potter and the Goblet of Fire, due out this year. His only other screen work was in the TV film Sword of Xanten, broadcast in America last year.

This fresh-faced, photogenic 18-year-old so oozes charm and likeability that casting directors are predicting a big future. Despite his initiation via Harry Potter, Pattinson cites Tim Burton and Todd Solondz as directors he admires for "breaking boundaries".
Thanks Ian!