Yates Talks Order of the Phoenix Film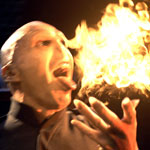 May 27, 2005
Uncategorized
In a column today in the Independent, there was a brief section where film director David Yates talks about a possible scene he would like to include in the Harry Potter and the Order of the Phoenix movie. The scene would include Harry flying along the river Thames in London. Quotage:
For all his magic powers, even Harry Potter must occasionally succumb to the petty burden of local government bureaucracy.

A highlight of the superhero's next film outing will (hopefully) see Potter, played by Daniel Radcliffe leading a high-speed broomstick chase, James Bond-style, down the Thames.

Unfortunately, the film's director, David Yates, who is currently masterminding pre-production, says that several local councils are refusing to play ball.

"So far, we have spent a lot of time on boats on the Thames," he tells me.

"I want to do a great big wizard chase past the London landmarks and it is going to be very exciting, but it has not been easy to set up. We need to secure the co-operation of 17 different councils, and some of them are doubtful at this stage."

"My location manager is going to spend the next four months trying to sort it all out- we don't start shooting until the spring."
Harry Potter and the Order of the Phoenix is due to begining filming in January, 2006.