USA Today Feature on Goblet of Fire (and Scans)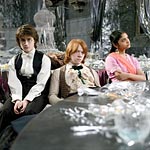 May 03, 2005
Uncategorized
Update: Veritaserum has uploaded scans from the print edition of the paper that includes a new photo of Hermione. Enjoy!
The USA Today has posted their feature on the upcoming Harry Potter and the Goblet of Fire film. There are some new details about the filming of scenes such as the first task, quotes from director Mike Newell, and a separate interview with actor Daniel Radcliffe (Harry Potter). A new photo shows Fred and George trying to enter their names into the Goblet of Fire as well.
In Goblet, Harry (Daniel Radcliffe) again faces his mortal foe, Lord Voldemort (Ralph Fiennes). "Voldemort is an utterly malignant human creature, a lot more savage and cruel than any invented creature could be," Newell says. "Harry has to find the resources in himself to do battle with him."
In the accompanying interview with actor Daniel Radcliffe, he confirms that he will be back for the Order of the Phoenix film which is due to begin production in Janunary of 2006. Daniel Radcliffe also talks not being able to watch his performance in earlier Potter films, and says he is also is looking forward to the release of Half-Blood Prince this summer.
Does playing Harry give him an edge over all the other eager readers, in terms of advance editions?

"I pre-ordered it, but I don't get an early copy or anything," he says. "I wouldn't want an early copy.

"It's fun to be able to discover it with everyone else."