GoF Stills and Video on BBC Newsround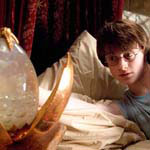 May 04, 2005
Uncategorized
Now we're cooking! The movie appears to actually be on its way. Check out behind the scenes footage and stills on Newsround. Interspersed in these video clips are glimpses of the Dark Mark scene, the Yule Ball, and more!
UPDATE: New report with new clip of trio at the Yule Ball
NOTE: The vids are back up with sound now!
UPDATE: Click below for a transcript, written out by reader Marksykins – thanks!
Dan Radcliffe: That's what I like about Harry, as well — he's pathetic at– at the whole romance thing. He's rubbish, which is great because he's sort of…he's a hero who's absolutely– he's– he's no good with girls. He's no good with dating, he doesn't know how to be around girls, which is great because he's a character for anyone out there who's ever been awkward with a girl. In itself. Which is…probably every…male…anywhere in the world.
(Short shot of Harry dancing with Parvati, but the dialogue is unintelligible.)
Emma Watson clip:
Emma Watson: This year, for Hermione, I think, she's just, more than anything else, on edge for so much of the film because she's…I think she's, uh,more of a mother-figure towards Harry, and she spends a lot of time worrying about him. Um, so, yes, this film is the (Emma makes 'quotey fingers.') "worrying Hermione." Uhm…what else happens? She…the Yule Ball sequence should be good fun. Um, she, uh, she kind of has a boyfriend in this film, which is…Ron and arry…it's a bit of a shock, really, especially for Ron, who, um, who, you know, he's just realized she's a girl.
(Then, a crowd shot, presumptively the First Task because the director voiceover says something about a broom coming in. Ron, Hermione, Neville, and Dean are all visible.)
Rupert's clip:
Rupert Grint: That's one of the reasons that why he gets a bit angry…'cause he thinks that, uh, Harry's always the hero, and he puts himself forward, just to like, uh…. Yeah, he's a bit annoyed, but in the end, he's quite cool because the tournament is wicked, and really sort of dangerous, and exciting, so, um, yeah…so. In the end, he sort of likes it, so.
(World Cup sequence, and Dan in first task sequence, end clip.)